I think it was a great idea to go out and have lunch with the people I worked with for almost four years.
Though not everybody were able to join us we superbly enjoyed each other's company and promised to schedule another one with the growing number of XNSP people...hehe! Immediately after being with them made me yearn for the things I've been missing:
1. Unlimited technical support for my gadgets!! (badly need one for my new toy)
2. New movies & tv series that I can watch during lunch break
3. Wearing casual clothes everyday or in my case at least every Friday because I enjoy naman wearing corporate clothes and dressing up.
Then again don't get me started with the things I'm grateful to miss...hehehe!
**********
Having this for a view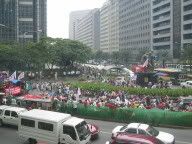 while having lunch with Aze and Adonnis made me feel guilty that we can afford the luxury while they're down there fighting off the harsh effects EVAT will do to their already impoverished state. Note that I don't make political statements here because I do feel hopeless and helpless that I don't even want to think about it. Hopefully my Phil. History professor who gave me a flat one for her very revolutionary subject (maybe seeing that I can make a difference) doesn't read this. If she does I'll tell her that I at least followed one of her advice -- not marrying someone from school (whatever she meant by that advice).
**********
Although internet access here at the office is not so limited or secured I can't believe how terrible the connection is. As much as I want to use YM instead of MSN (kse wala naman ako friends na naka-MSN huhuhu) my YM doesn't work! I can sign in and send messages but can't read the text I am typing, sending or receiving...how useless! So Ryan and I made an MSN account at the same time I asked my best friends Auie and Cid to have one too. So sila lng ang friends ko dun...hahaha! Ryan and I do not need to call each other all the time because of this. If we feel like it sa chat na lng kme nagkukulitan so as not to disturb each other if the other one is very busy with work (kse you can easily shoo each other off). However, our connection nowadays is fluctuating after I send a message to him I get cutoff unable to read his response. Instead of getting pissed off I can't help but laugh everytime because he named our network after one popular island in Puerto Princesa, Palawan - luli (for lulubog lilitaw). He added: Grabe kung ganyan ang network namin dito last day ko na siguro! (how true!)
**********
Just would like to congratulate my married friends who now have very cute babies! Puro boys?!! For now I'll be content gushing at them because can't imagine myself being a mother just yet...maybe next week..haha! Or at least when I'm brave enough to endure the birthing pain...Just thinking about it makes me quiver. Yaiks!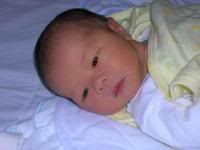 Ethan of Joey & Cecil

Ali of Denise & Aldo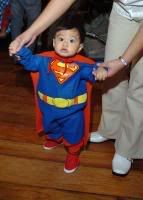 Nino of Monet & Anton
*************************************************
It took me weeks to post this (all because I want to finish my Palawan story first)! I now have my YM courtesy of the net-ads I befriended...sshhh!You can always catch me online everyday but I may be too pre-occupied to reply! Plus I can install any program I want.