We've been waiting for this celebration for a year while we were still on our honeymoon ...We enjoyed Bohol
and Boracay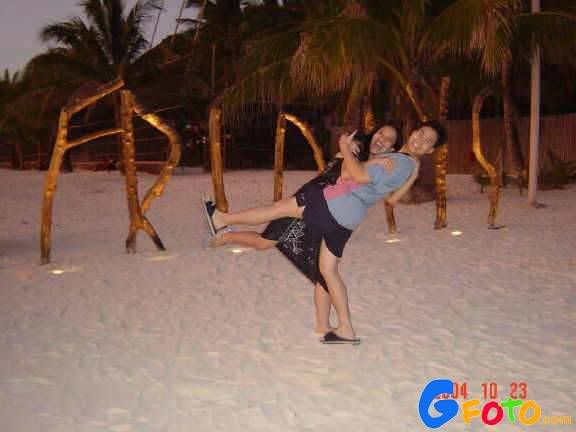 so much that we promised we'll do it again after we refilled our piggy bank.
We weren't really after the lavish accommodations we had at Bohol and Boracay (although of course we can't help but wish for that). Palawan resorts tend to be more costly than going abroad (Singapore, Hongkong, Thailand or Malaysia) so we purchased the very friendly packages of PALakbayan and stayed in the heart of Puerto Princesa City.
Just like what I did for our honeymoon I contacted the hotel itself (despite easy & complete arrangement c/o PAL). I requested for the best room that they have and inquired for the places to see and a lot more.
d: Miss please make sure that you're giving us the best room in the hotel
hotel staff: Sure ma'am I'll put you on the third floor!
d: Is that the best floor..meaning it has a good view and the rooms are better?
hotel staff: Yes ma'm you have the view of the mountain. Just don't be surprised because we don't have elevators.
d: huh? Ilang floors ba kayo?
hotel staff: 3 lang ma'am...(*insert embarrassed giggle
here)
d: ahhh...okayyy...(*trying to supress my laughter)


To our horror (okay okay more on mine) all are tours begin at 7:30 am. Whatddda????!!!! Not to mention our flight is at 7 am and we have to be at the airport at least 2 hours before...If ever...this was going to be the downside of this vacation. Before we left, our itenerary was well planned. We have booked all tours we plan to take except for the city tour on the first day. I was up for adventure and for 500 per head I'm sure we'll spend something less than that. (Adventurous and kurips!!that's me!)
Two days before our departure my brother informed me that our flight will be delayed. Good: I need not wake up too early, bad: kse sayang yung time we should've been there early. Just the same, we woke up early to have good seats...playing safe just in case a lot of passengers didn't get the message about the delayed flight. I also had an approval for a half day leave the day before our departure, so extra time to pack our things. We are soooo excited!! When I took the rest of the day off (Ryan by the way took the whole day off) we did some last minute shopping of snacks, water & vodka cruiser.
Friday. 5:00 am. I was up so early and I prepared extra special ham & cheese sandwiches for breakfast (left some na rin for my aunt & brother). Ryan was surprised not on what I prepared but on the time I woke up to prepare it. Hehehe...iba tlga pag excited.
We arrived at the airport 7:00 am an hour early if our flight wasn't delayed. After we checked in (at literal na kme ang nag-open ng counter for Puerto Princesa ha) they told us to present our ticket at Saint Cinnamon for free snacks. We thought it was for everybody but overheard that it was for the passengers of the delayed flight...hmmm...4 ensaymadas and a glass of iced tea is not enough bribe for the time we lost (charing!as if favorable ang earlier flight sa akin).
It was a long wait at the airport. Believe me there were more pictures than this one dahil walang magawa si Ryan..and of course once you're at the airport you can't hold your excitement so parang feeling mo ages ka nang naghihintay. Ryan played games at his xda while I read my new pocketbook I bought for this trip.
Finally at 10:00 they boarded us, then we're off to Palawan. When we arrived as if I wasn't contented with all the research I did, I went to their tourist assistance desk. They gave me another map of Palawan...we bought ours two weeks ago for around a hundred bucks and that was for free?! Oh well, now Ryan and I have our own maps wala nang agawan..hehe.
It was a short trip from the airport to Hotel Fleuris as in literally you can take the tricycle for a minimum fare of P 6.50 and I love their tricycles! I wonder why I didn't take a picture of it. It was huge and spacious. Even the 3rd person inside can still sit comfortably and you can put your baggage at your back na inside pa rin ng tricycle. Sabi tuloy ni Ryan "o ano gusto mo nang maguwi ng ganyan sa Manila?" (looking back and riding these crammed tricyles here at reposo I wish I did so)
Hotel Fleuris was expectedly small, what do you need elevators for? At least I was prepared that it was no Nami or Panglao Island Resort but Ryan got a little disappointed it totally wasn't. When we entered our room first thing we checked was the TV because we brought our beloved PS2 with us.
Unfortunately
it cannot be plugged on their tv set?!!!Haayy...sayang we were so careful pa naman carrying it to Palawan tapos we cannot use it pala..huhuhuhu.
In time for lunch, we went to Ka Lui's
(I overheard the hotel driver telling the other guests about it). The restaurant's small entrance led to a very cozy hut inside, nestled in a garden. You walk barefoot inside and they have a very clever native locker for the guests' shoes. We ordered their catch for the day (it includes sizzling pusit, fish & prawns) but no! we we're wrong...it didn't stop there. We were full from the generous servings when they brought out one whole medium sized steamed fished followed by a bowl of fruits served in one half of the buko.
My tummy really ached...it was only our first day and we were already pigging out.
Afterwards, we decided to head for the crocodile farm (ignoring the incessant offer of the hotel driver of a tricyle rental for a city tour). We didn't go wrong with the instructions the girl from the tourist desk gave me.
Highlight of our trip to the crocodile farm- I held the baby croc!
(ummm...for a fee P30) so si Ryan naki pose na lng para libre
hehehe. There were big spiders too and Ryan can't believe na mas takot pa din ako sa spider kesa sa crocodile...as in I was freaking out! What do you expect spiders yun.
I loved the skin of the croc it was smooth and he's so tender ...the one you can see in the picture is not a string tied around his neck...I think I'm squeezing him too tight.
After our tour inside the crocodile farm, led by one of their staff, other tourists left on their vans which is part of the city tour package. We were left alone with no ride home...and since it was already getting dark and the only other place to go was the butterfly farm we called it a day and decided to go back to our hotel. I was so amused at the hospitality and generosity of the multicab (jeepney in Palawan) drivers. Going to the croc farm kse, the driver did not ask one passenger for her fare. He said "sige na sige na kamusta mo na lng ako kay kumpare". It was no cheap treat because there weren't a lot of passengers (unlike the jeepney drivers here in Manila who doesn't leave until they made sure they've squeezed all passengers and can't fit another one) and the ride was really long, ours cost around P17.00 each. On our way home, the driver naman did not let a group of passengers pay and another kumpare he picked up along the way. Hmmm....maybe here in Palawan the drivers can run for the election. Or maybe if you're a jeepney driver a lot of people get you as ninong of their children. While I played at the random ideas about the multicab drivers of Palawan, Ryan busied himself musing over how clean the city is, because at every electric post there is a huge green garbage bin. You really will not have an excuse to litter.
At the hotel room, we were still finding ways to plug the PS2...as if! We even contemplated on buying whatever mechanism we need to attach for it to work. All of a sudden nag-brown out. Oh great! We can't believe it...we we're wondering tuloy if it's like this in the Puerto. Instead of trying other recommended restaurants that night we decided to have food delivered from Jollibee, besides we're still soo full from the lunch we had at Ka Lui's. Jollibee was at the corner lng of the street, sadly they told us they cannot deliver because they do not have a generator and they are just finishing the food they have. We didn't have a choice but get up and walk to Chowking (at the opposite side of Jollibee). Ang saya ng ending ng 1st day namin noh? Take-outs from Chowking for dinner. =)
to be continued.....