I love the post my friend
Cid
made after we went out to have a "learn to blog session". A month ago actually.
Cid was my college classmate and one of my closest, real & true friend. I am not just saying this to return the favor of the nice things he said about me in fact if you really want to see what we think of each other go check out our friendsters testimonials. Haha! Cid became my friend out of convenience when I turned my back against my clique fighting for something I believe in. At that time nawalan ako ng choice kse wala kmeng masamahan ni Auie in a way wala ring choice si Cid kse partly may kinalaman sya sa issue. Ah mali pala! Sya ang issue! Haha!
Seriously speaking Cid knows what I went through...he was somebody you can really be yourself anytime, kahit pa you're so pathetic na...maybe because he can relate to the feeling. I developed my confidence and survived teenage insecurity turmoils unbelievably with his crazy antics such as..."You're no beauty queen but you're no Elizabeth Ramsey either" lines while I was crying.
Memorable din ang pagiging bestman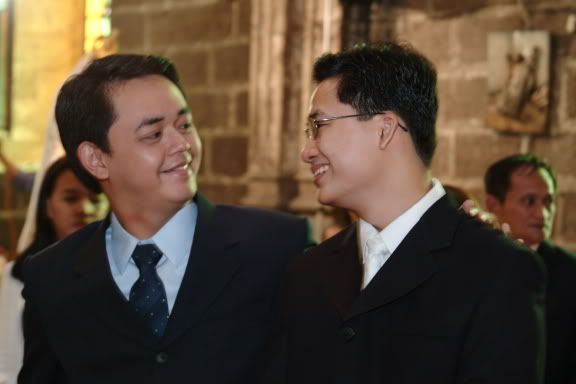 ni mokong sa kasal namin pero actually maid of honor ko sya di ko lang mapagsuot ng gown kse baka maging lawyer anytime soon eh hindi ako kilalaning kaibigan. So proxy sya ni bestfriend Auie and a good bestman for my husband I must say. Kahit na di ko malilimutan ang first words nya kay Ryan (who wasn't my bf yet that time) was..."ah..Computer Engineer ka? Si Dowa tlga ang hilig sa engineers". True friend tlga! Bait!
In college (at malamang hanggang nagyon), super senti tong si Cid pero he was able to express himself in all forms of literature. Can you imagine knowing the words and the tune of an unpopular song? Well, our whole class was able to because of Cid's easy and straight to the heart songs that he composes. He was a promising
artist
...ahh songwriter na lng na muntik nang sumikat lumagpas lng ng seconds sa demo tape to be one of the finalists in Metro Pop. Maybe it was for the best na din because he's a more promising lawyer than a singer. Haha! Although teeming with good qualities it's really hard to believe he still hasn't found "her". We promised ourselves that one day sabay sabay kme nila Auie sasaya...hopefully before kami ni Auie mag-kaapo. Sometimes kulang na lang maglagay ako ng ads para i-promote sya (nope this is not one of it obviously).
I was sitting in the classroom observing his teaching demo for our Global & Local Culture subject. I badly needed to find an instructor who can teach the subject. I was nervous..I was also putting my career on line getting him. Our faculty members were impressed that I brought in a lawyer who was willing to handle the subject but something else about him impressed me. I know how unprepared he always was for reportings way back in college. As in pinapaikot ikot ang explanations para mahilo ang prof or nagpapatawa na lng pero ang suma total halata pa din. Now standing in front of us is a totally different guy. He really knows what he's talking about. He's really passionate about law...I know he'll get somewhere. He came a long way from the classmate I once knew. Still fun loving and kaka-enjoy to hang out with but now with more depth and sense. Dati pa naman syang no none-sense guy, (I take pride in the friends I choose) but I can sense how much he matured. He will definitely be one fine lawyer our country will know of! I so love the fact that Ryan enjoys being with him as well and maybe the second person na binasa nya ang blogs. Nakikinita kinita ko na that Cid will be called by our kids "ah si Tito Cid family friend namin" because that's how long our friendship will take (wish ko tlaga di ka-edad ng apo namin ni Auie mga anak nya..hahahaha!joke!peace!). It's reassuring to go through life to have good friends like him. I am certain that in the path of finding success he stumble upon true love which he truly deserves.
over! this post was one month in the making!